Last Updated on October 6, 2023
Can I Watch BBC iPlayer Abroad on my iPad?
On this site you'll find various methods, that you can use to bypass the geo-targeting blocks employed by most media sites including the BBC iPlayer.
For example, here's how you can use Identity Cloaker to watch any of the UK TV stations outside the UK on a PC or laptop –
But proxies and VPNs are easily enabled by PC/MAC software, but what happens if you use a tablet like an iPad to watch your TV?
When you try and access any of the main UK TV sites abroad on a tablet or smart phone then you're obviously faced with exactly the same situation.  Your iPad will receive the same non-UK ip address and if you try and access BBC iPlayer you won't be able to access anything other than the international radio stations.  So just like any other device you will have to convince the BBC website that your IP address is a British one to get access to iPlayer abroad.
Many of the biggest VPNs provide customized apps which you can install directly.  Unfortunately many of these VPN services are now blocked automatically by the BBC and other UK streaming sites.  The problem is that lots of these services are simply too popular and as such are extremely easy to identify.  The point and click simplicity of the apps is of course great but they are yet another obvious footprint which can be identified by the streaming services themselves.
Low Key VPN Services work Best for BBC iPlayer
The issue is that many of the less well known VPN services which are virtually never blocked by the BBC don't have all the fancy extra services. For example you can use most of them on a tablet like the iPad but you have to set up the connection manually.  The iPad for example can support native VPN connections, and you only need to create one to your favorite UK server to watch the BBC whenever you like.
Fortunately, there is a simple way to do this too.  All you need is to set up a VPN connection on your iPad and enable it whenever you need to change your IP address.
Here's how you do this using Identity Cloaker –
Set up a VPN Connection on iPad for BBC iPlayer
Changing your IP address to a UK one is best achieved by setting up a VPN (Virtual Private Network) between you and a British VPN server.  It sounds a little technical, but it isn't really, just involving a couple of steps and takes two minutes.  When the VPNs are enabled, you can turn them on and off at will, and change your IP address whenever you need to.  There are no free services around to do this, simply because VPN servers are costly to run, but you may have access to a VPN through work as many companies provide them for remote access to corporate networks – it's worth checking before paying for a subscription.
If you don't have access to a corporate VPN service, then you will need to subscribe to one.  Make sure that they provide a minimum of UK and US servers in the one subscription as standard, also ensure they have plenty of servers – an overloaded server is virtually useless especially for streaming video.  I of course use the excellent service provided by Identity Cloaker and have so for many years so will use this to demonstrate.  The steps will be pretty much the same for any VPN connection though.
Here's a short video demonstrating the process, it's quite an old video but it's perfectly valid for 2023. Plus, for those who prefer screen shots they follow below.
Using your iPad
Select Settings
Select General
Select Network
Select VPN
There may be no 'network' on later versions on the iPad – just look for VPN.
Which should bring you to the following screen –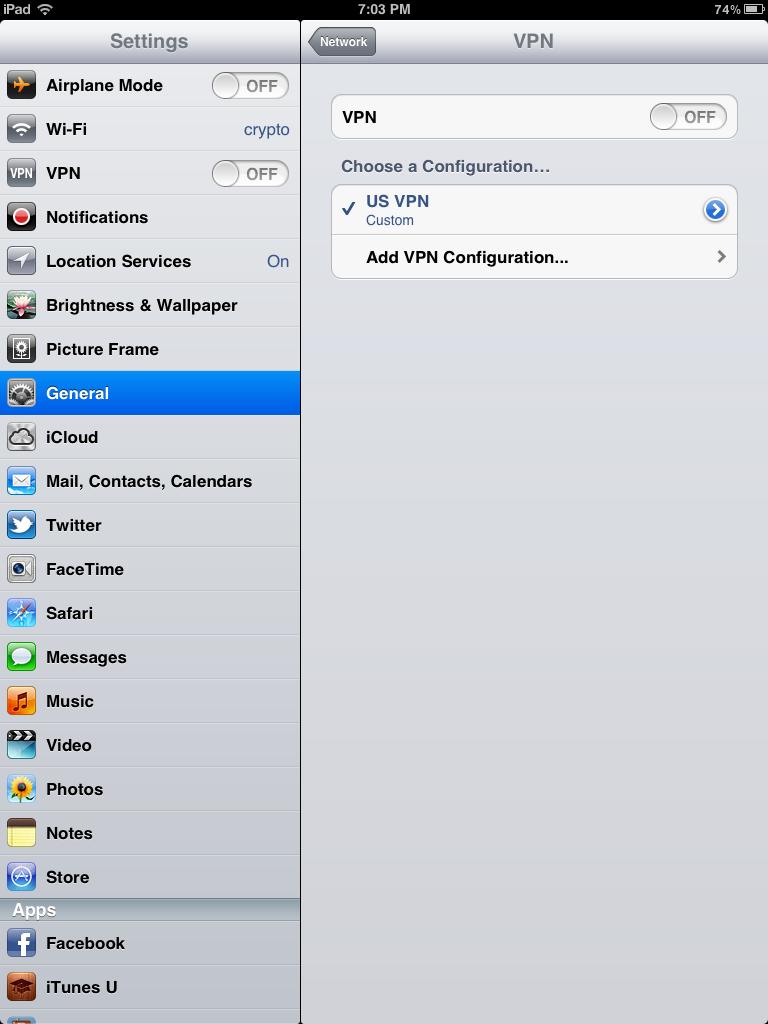 You can see from here; I've already set up one VPN to the US so that I can watch American TV stations like ABC and Hulu.  Anyway, just press Add VPN Configuration to set up another connection and you should get this screen.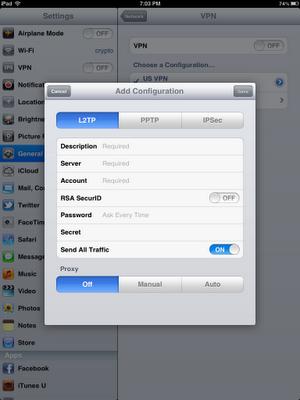 It looks a little technical but it's actually very simple.
VPN Connection Details for the BBC
Leave it set to L2TP and then complete the following details.   These you should get from your VPN provider, for Identity Cloaker users all the details you need are listed in the members area for security reasons.
Description – Just use a descriptive name, especially if you're setting up lots of different country connections.
Server – Name of the VPN server (members area)
Account Name – Your Identity Cloaker username (or other service)
RSA SecureID – Leave this blank
Password – Password for your account.
Secret – VPN Secret Name again from members area
When you've filled those fields in you're finished, just remember to save the configuration before you exit and that's it.  You should set up different VPNs for any country that you'll need access to.  Identity Cloaker has about twenty different countries available, but you can see I have just set up two for the UK and US VPN connections.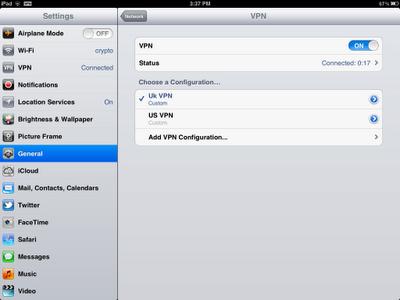 To enable the VPN just to move the slider across, it will enable whichever VPN you have highlighted.  Obviously pick the right country, so if you want to watch BBC iPlayer from Spain then turn on the UK one.  The VPN ensures all your communication is encrypted so you should also use a VPN when travelling especially when accessing password protected sites over unknown Wifi connections.  It's quite easy to turn the connection on and off just by using the slider, if you're using for security the location is not important just use the nearest one.
The VPN connection is enabled by seeing this in the top left-hand corner of your screen.

The method will be the same for whichever provider you select, make sure that their servers are enabled for VPN connections (not just simple proxy servers).  If you want to try Identity Cloaker subscription – it's best to try this  cheap ten day trial first to make sure you can get it working.